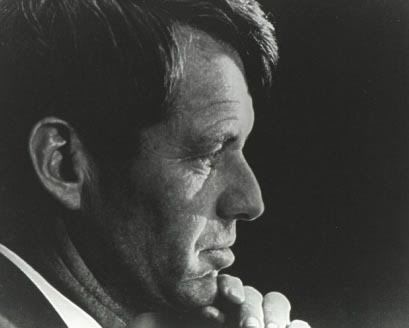 Robert Francis Kennedy
November 20, 1925 - June 6, 1968
:: :: :: :: ::
I believe that, as long as there is plenty, poverty is evil.
Speech in Athens, Georgia (May 6, 1961)
::
We know that if one man's rights are denied, the rights of all are endangered.
Speech in Athens, Georgia (May 6, 1961)
::
All great questions must be raised by great voices, and the greatest voice is the voice of the people - speaking out - in prose, or painting or poetry or music; speaking out - in homes and halls, streets and farms, courts and cafes. Let that voice speak. and the stillness you hear will be the gratitude of mankind.
Speech in New York City (January 22, 1963)
::
The problem of power is how to achieve its responsible use rather than its irresponsible and indulgent use — of how to get men of power to live for the public rather than off the public.
The Pursuit of Justice (1964)
::
As long as men are hungry, and their children uneducated, and their crops destroyed by pestilence, the American Revolution will have a part to play. As long as men are not free — in their lives and in their opinions, their speech and their knowledge — that long will the American Revolution not be finished.
Speech in New York City (June 15, 1965)
::
As long as America must choose, that long will there be a need and a place for the Democratic Party. We Democrats can run on our record but we cannot rest on it. We will win if we continue to take the initiative and if we carry the message of hope and action throughout the country. Alexander Smith once said, "A man doesn't plant a tree for himself. He plants it for posterity." Let us continue to plant, and our children shall reap the harvest. That is our destiny as Democrats.
Speech at Testimonial Dinner for Patrick J. Lucey (August 15, 1965)
::
A revolution is coming — a revolution which will be peaceful if we are wise enough; compassionate if we care enough; successful if we are fortunate enough — But a revolution which is coming whether we will it or not. We can affect its character; we cannot alter its inevitability.
Speech in the US Senate (May 9, 1966)
::
At the heart of that Western freedom and democracy is the belief that the individual man, the child of God, is the touchstone of value, and all society, all groups, and states, exist for his benefit. Therefore the enlargement of liberty for individual human beings must be the supreme goal and the abiding practice of any Western society.
"Day of Affirmation" speech, Capetown, South Africa (June 6, 1966)
::
The essential humanity of men can be protected and preserved only where government must answer — not just to the wealthy, not just to those of a particular religion, or a particular race, but to all its people.
"Day of Affirmation" speech, Capetown, South Africa (June 6, 1966)
::
Few men are willing to brave the disapproval of their fellows, the censure of their colleagues, the wrath of their society. Moral courage is a rarer commodity than bravery in battle or great intelligence. Yet it is the one essential, vital quality of those who seek to change a world which yields most painfully to change.
"Day of Affirmation" speech, Capetown, South Africa (June 6, 1966)
::
Men without hope, resigned to despair and oppression, do not make revolutions. It is when expectation replaces submission, when despair is touched with the awareness of possibility, that the forces of human desire and the passion for justice are unloosed.
Speech in Berkeley, California (October 22, 1966)